I will be breeding a girl, "Niki", Whindancer's Up All Night For Good Fun and a boy "Milo" CH Whindancer's Over the Moon. Depending on when she comes in season, we should have puppies around June going home August, September.
We are starting a new Head Start program with the puppies designed by a Wheaten Breeder, Karli Mueller. The program is designed to stimulate early neurological development at critical time periods in the puppies life to increase their ability to handle stress, adapt to new experiences, learn new behaviors as well as socialize the puppy to new people and environments before they go home. I temperament test all the puppies at 7-8 weeks. We start crate training and leash training before the puppy is placed with a family. All of this helps to get the right puppy to the right family depending on each families life experiences and life style. This has proven to help with the transition of a puppy into a family at 9-10 weeks.
Niki and Milo were chosen to complement each other in structure & temperament. If you are interested, you can fill out a questionnaire on line, located on the Home page of my web site & send it to me if you haven't already done so. This is how I keep track of people who are interested in puppies. A visit here is the only way to ensure a puppy from the upcoming litter and for us to discuss in detail, grooming requirements & care of Wheatens. I don't sell to people I haven't met before. All parents are AKC registered. When I place a puppy I give copies of all the health testing on the parents so families know every screening test possible has been done on the parents to insure good health throughout the dog's life..
I don't ship puppies. Both parents, grandparents & great grandparents have been screened for Protein loosing diseases, hips x-rayed for OFA results & eyes checked for PRA. The pedigree on both parents is predominately European. I have been breeding for about 20 years and have been breeding this European line for about 15 years with good success with health. I sell all my puppies On a spay, neuter contract which means you cannot breed the puppies. I do temperament testing on all my puppies at 8 weeks old. This helps in deciding which puppy will fit with each families circumstances.  For more information on the breed, visit scwt.org. Thank you for your interest in this lovely breed. Look forward to hearing from you.
Recently there has been a new test developed by the Vets at the University of Veterinary Medicine Pennsylvania, that has identified 2 DNA markers for the problem of PLN (Protein Loosing Nephropathy) in our breed. This is a very exciting development for the health of our breed. The markers tell us if our dogs have a more likely chance of developing the problem or not. I am happy to report that both the dogs used for this breeding are NEGATIVE for the 2 markers! For more information on the new test and what it means, visit the web site, scwt.org.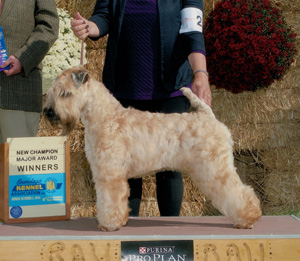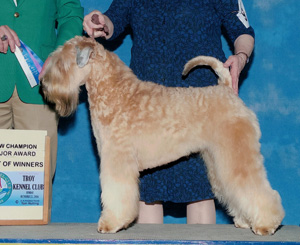 Litter Statistics:
Date:
Girls:
Boys:
For more information about current and future Litters please fill out the Questionaire found on the Home page and email or call to set up a visit.
Susan Ratliffe
88 Furman Road
Macedon, NY
Phone: 585-377-1994
Email: wndancer@rochester.rr.com
Edit