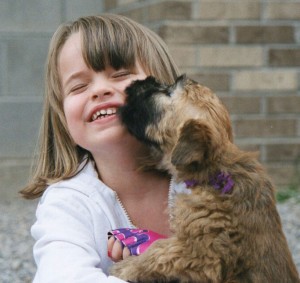 Wheaten Terrier Breeder
Welcome to Whindancer Wheatens Web Site.  I have been breeding and showing Wheaten Terriers since 1995.  As a Wheaten Terrier breeder, Wheatens are apart of our family and are raised in a home environment. I am an AKC Breeder of Merit.  The dogs come from Champion Lines chosen for health, good looks, intelligence and good temperament.  All dogs are registered with the AKC .
I am a member of the Soft Coated Wheaten Terrier Club of   America and support their code of ethics.
The goals for my Wheaten Terrier breeding program are to breed for good temperaments, health and conformation providing well socialized puppies and Dogs to happy owners.  Buying from a reputable wheaten terrier breeder, allows the buyer to have health guarantees, proper documented testing on all dogs used for breeding, a resource for after the sale if problems arise and the experience of breeders who care about and love the breed. Especially if you are buying a dog for a family pet, you want to ensure that the puppy was bred with care; love and knowledge maximizing long life, good temperament and the right fit for your family.
All dogs used for breeding are tested annually, including urine and blood tests.  Screening for hips (OFA) and eye problems (PRA) are done routinely.  Recently there has been a new test developed by the Vets at the University of Pennsylvania Veterinary Medicine School that has identified 2 DNA markers for the problem of PLN (Protein Loosing Nephropathy) in our breed. The Markers tell us if our Dogs have a more likely chance of developing the problem or not.   All our dogs used for breeding were tested and all are negative for the two markers.   Puppies are temperament tested before placement.  Visits are encouraged to meet the dogs and wheaten terrier breeder.
We are starting a new Head Start Program with the puppies designed by a Wheaten Breeder, Karli Mueller. The program is designed to stimulate early neurological development at critical time periods in the puppies life to increase their ability to handle stress, adapt to new experiences, learn new behaviors as well as socialize the puppy to new people and environments before they go home.  I temperament test all the puppies at 7-8 weeks. We start crate training and leash training before the puppy is placed with a family.  All of this helps to get the right puppy to the right family depending on each families life experiences and life style. This has proven to help with the transition of a puppy into a family at 9-10 weeks.
To obtain a puppy, fill out the Questionaire, contact the wheaten terrier breeder by email or phone, so the breeder can get to know you better and understand what you are looking for.  Then visit the breeder as schedules permit, to see the puppies/parents in person, get tips on grooming and fully discuss owning a Soft Coated Wheaten Terrier.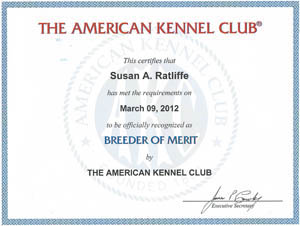 Contact Information:
Susan Ratliffe
88 Furman Road
Macedon NY 14502
Phone:  585-377-1994
Email:  wndancer@rochester.rr.com
For more information on Soft Coated Wheaten Terriers, Health         issues, Temperment and care please go to the National                         site:   www.scwtca.org